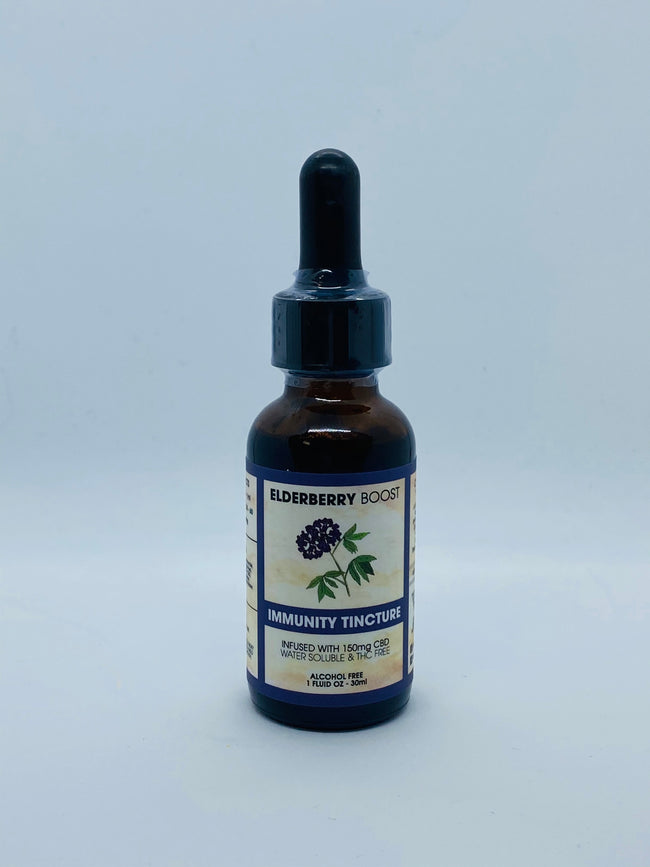 Canna Infuzions Herbal Immunity Tonic
PRODUCT DETAILS
Canna Infuzions Herbal Immunity Tonic is a delightful way to consume immunity booster herbs into your wellness regime. Each bottle contains 150mg CBD*. One full dropper (1mL) contains 5mg of CBD*. 
Directions: SHAKE WELL prior to use.

Serving Size: 1/2 - 1 dropper 1 x 3 times daily or as needed. 
*This is a THC-free product.

Ingredients: *Elderberry, *Echinacea, *Cinnamon, *Chamomile, *Rosehip, *Orange Peel, *CBD Extract (THC-free, made with isolate), Vegetable Glycerin (USP, Kosher Food Grade, Non-GMO, RSPO Certified), purified distilled water. *Organic Ingredients.

Our Base: Glycerin is VERY sweet and has a mild warming sensation. It is not uncommon for glycerite tinctures to have a milky, semi-frothy appearance, or for some product (white speckles) to accumulate in the dropper or at the top of the tincture. This is a result of the emulsification/formulary process. SHAKE WELL prior to use.

Our herbal tonic has been made with a glycerine/purified water base, that has spent time solar infusing. We could have chosen alcohol or even apple cider vinegar to steep our herbs in, but we decided for this tincture we wanted to use something sweet and tasty that would appeal to many palates! Canna Infuzions Herbal Immunity Tonic is different than elderberry syrup. Herbal infusions have been around for literally thousands of years and are a stronger, more potent (and medicinal) version of juices or syrups. 

Infusions draw out nutrients, enzymes, phenols, and aromatic oils out of the herbs that are chosen for herbal tinctures. Phenols have antioxidant properties, which are associated with wellness and good health. Nutrient-rich herbs add an extra dimension to your daily regimen and work synergistically to support overall health. In this case, helpful for providing immunity support during the cold season! 

While elderberry is a key ingredient in our Immunity Tonic, there are many other shining stars!

Ingredients Include: 

Organic Enchinacea Purpurea - Echinacea has a complex mix of active substances, some of which are said to be antimicrobial, while others are believed to have an effect on the human immune system.

Organic Chamomile - Promotes sleep, may help with insomnia, boosts immunity, helps treat cold symptoms, reduces muscle spasms, soothes stomach ache.

Organic Rosehip - Contains Vitamin C,  B Complex Vitamins, Vitamin E, antioxidants, bioflavonoids, polyphenols and dozens of other vitamins, nutrients and beneficial compounds that help keep our bodies strong.

Organic Cinnamon - High in substance with multiple medicinal properties, cinnamon not only tastes delicious but is also loaded with antioxidants, polyphenols, and also has a huge amount of anti-inflammatory properties.
Organic Orange peel - The high concentration of Vitamin C and Vitamin A helps strength the immune system and also contains additional anti-inflammatory properties.